Great Burstead Out of School Club
Our Great Burstead Out of School Club is passionate about sparking children's imaginations, creativity and curiosity. We provide 7am - 7pm care for children attending Buttsbury Infant and Junior School; St Peter's Catholic School; South Green schools.
Our Great Burstead Out of School Club in Billericay is all about creating fun and interesting experiences for all children – whatever their interests. We fill each day with awe and wonder, from making puffy paint rainbows; crawling under obstacle courses; relaxing in yoga sessions; getting messy while cooking or expressing themselves when creating our own films.
We also understand that they need a calming environment to relax after school, somewhere where they can feel at home, read, complete homework and chat to friends.
It can be daunting joining a before and after school club for children and parents. We work with you to create meaningful relationships with your family and you have the peace of mind that your child is in safe hands.
7am - 7pm wrap around care
Homecooked breakfast and tea
Spacious secure gardens
Fully supervised mini bus or walk to Buttsbury (after school only), St Peter's and South Green schools
Regulated by OFSTED in the same way as our nurseries are, so your child is guaranteed a safe and fun environment. Meet Our Great Burstead Out of School Club Nursery Staff
---
After our passion, what is the next most important thing you should know about us?
That's easy: our incredible staff! Pure and simple. They are the heart of our family and what makes us unique. Our inspiring and passionate staff are the reason we hold the coveted 'Top 20 Nursery Group 2018' award, and have been voted Essex Mums 'Out of school club of the year' 2018, we are also recognised in the prestigious NMT Nursery Awards each year.
Dedicated to being the best that a family could ask for, our nursery staff are constantly developing themselves through our training programme run by childcare and EYFS experts. It is not just our little ones who are the passionate lifelong learners here at Kindred!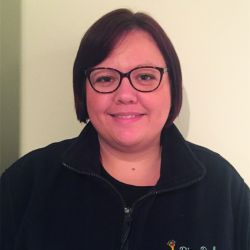 Zoe Jestico

Quilters Club Manager
Degree in Early Years Playwork and Education.

Highly trained in: Paediatric First aid; Social and Emotional and Mental Health; Phonics; Outdoor Learning Environments; Maths and Literacy in Early Years What's On?
Blog Listing
Kindred Nurseries wins NMT award after being shortlisted for three national awards. Beating competition from around the country.
Monday to Friday, from 7:00am to 7:00pm.
Open during the school year except for bank holidays.
--- Our Location
---
Great Burstead Out of School Club
Church Hall, St Mary Magdalene,
111 Church Street,
CM11 2TR
---