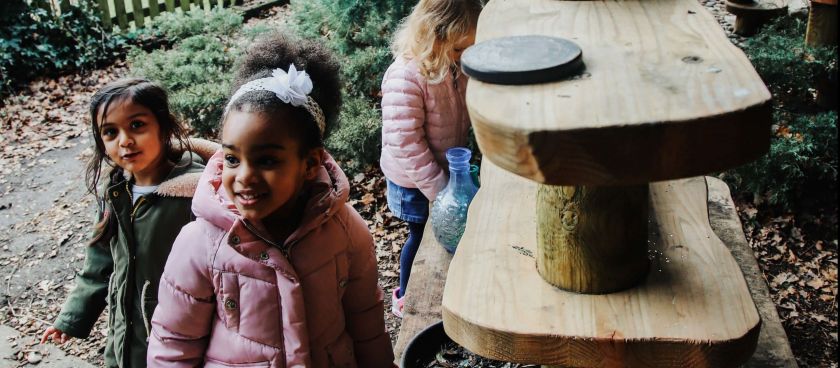 About Us
Awe and Wonder in the outdoors
We believe outdoor play and exploration are an essential part of learning and growing up. So we have developed our gardens to provide children with the greatest variety of experiences, challenges and resources that inspire awe and wonder!
---
The equipment and activities in our gardens nurture healthy and active fun through climbing, cycling, sand and water play. We encourage children to play outside as often as possible and in all weathers, it's certainly fun in the sun, but great when we can splash in puddles!
---
We seek to develop children's understanding of the world around them and encourage them to be little scientists by using their imagination, emotions and senses providing activities such as mini-beast hunts, leaf matching, and picture making with natural materials. The children become aware of the sounds and smells associated with the outdoors, learning to respect and appreciate their natural surroundings. Learning about life cycles, natural habitats, tree identification and exploring the flora and fauna of our nurseries.
Not only is playing outside great fun for children, its healthy for them too! It has been recognised that children that play outside have an increase in the vitamins D levels, helping them to build strong bones. It will also support children to gain mastery of their bodies, strength and co-ordination as well as build their resilience. At Kindred we understand that children need and want to take some risks when they play. We aim to respond to these needs and interests by offering the children a stimulating and challenging environment where they can explore and learn.
Our outdoor theatre (Award-winning outdoor space at Les Enfants)

Outdoor Reading Nook (Hainault)

Lots of space to explore (Award-winning outdoor area at Les Enfants)

Baby and Toddler Outdoor Classroom (Buttsbury)

Mud Kitchen (Buttsbury)

Toddler Garden (Hainault)