Our Story
Look out world, here I come!
Kindred is a family of day nurseries and pre-schools, founded on over 25 years' experience in caring for babies and children.
---
The Kindred family of nurseries offers the highest quality, professional
childcare for children from 3 months to 5 years old.
---
Where did we come from?
We are a family of nurseries who have recently come together to build something even better and brighter to support little ones to thrive in their early years. We are a collective of nurseries who realised that by pooling our shared passion, experience and resources we can achieve even more in our mission to create inspiring worlds of awe and wonder for little ones to thrive in.
Recently, we underwent some exciting changes to the name and look of our nurseries. Our little family of nurseries had grown over the last couple of years and we felt that having worked together with our parents, children and staff as one team, we've come to appreciate we have evolved and need to continue evolving as a childcare partner.
And so many of us worked together, staff and families, to create a look and mission that passionately reflected our shared ethos and what we are all collectively striving to create - say hello to Kindred Nurseries!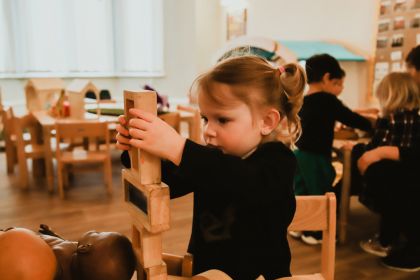 How was this all decided, you might ask?
This is where we are most proud! It was a huge family affair, with many of our staff and families getting involved. We were therefore hugely excited to create a new look that was based on listening carefully to what our staff and families told us, and a name that is a better reflection of what we are all about.
We made a conscious decision to create and build everything ourselves (staff and families) so that all investment continues to go to the things that matter – our precious children and building environments that help create awe and wonder in every moment.
What do our families say?
"My son has gone to Hanwell since he was 6 months old and he has grown into the most wonderful, imaginative, creative, considerate and kind little boy who is eager to learn and who has the best sense of humour. Whilst my husband and I take some of the credit, we also put it down to the care and attention he has received from all the staff at the nursery over the years. Exceptional and caring play partners who bend over backwards to make all the children feel safe, happy and at home."

C.S. MOTHER OF CHILD AT BUTTONS, HANWELL

"I would like to thank you for the excellent service that Teddington Nursery provided. My son absolutely loved his time at Teddington, and we are very grateful for the excellent care and attention he received from the staff. It was a safe, stimulating and homely environment and the sessions were always well structured. Also, the levels of hygiene were very good and the setting was not overcrowded, which was particularly important to us. It was a very good preparation for starting school! I would, without hesitation, recommend this nursery to my friends."

FATHER OF CHILD AT TEDDINGTON

"I wouldn't hesitate in writing an outstanding review for Kindred nursery and all of its staff. My little boy has been at Teddington for just over a year now and is thriving there, both socially and academically. The management run buttons so professionally with that personal touch. The teachers are caring, engaging and fun. The food is fabulous. The best advert for Kindred is my little one is happy. Some days he's disappointed he's not actually going!!"

C.D. MOTHER OF A CHILD IN TEDDINGTON

"Thank you all. We couldn't be happier for Matt. Any child that comes through your door is very lucky"

MATT'S MOTHER, BOURNEMOUTH

"Thank you so very much for everything you have done for our 3 children. They have all loved their time at Little Learners and you have given them a great start to their education."

MR AND MRS G. LITTLE LEARNERS, BROMLEY

"I still cannot believe that we have no more little ones to start at Les Enfants now that Miles has left!!! Rob and I (and Grandad!) cannot express how grateful we are to all of the staff over the years since 2007, past and present who have cared for Megan, Mackenzie and Miles. If it was not for you and your team we would not be getting the special needs support for Mackenzie now.

I never had any complaints or concerns for their welfare while they were at Les Enfants. Having trained in childcare and doing my work experience in other nurseries, I really saw how they did not compare to Les Enfants and how hard you all work – that is why I probably chose to work in construction! I will always recommend Les Enfants to friends with young children."

EMMA LES ENFANTS, BROMLEY

"My daughter previously attended a formal style of pre-school from the age of 2 until she moved to a Kindred Salisbury. The difference in her behaviour, attitude to learning and character blossomed under their approach and care. The child initiated learning encouraged my daughters enthusiasm to spark for her own interests and changed her attitude towards learning. My daughter was happier and enjoyed coming to nursery. The child centred approach to learning has promoted her readiness for school and she is thriving in a school environment."

KINDRED SALISBURY PARENT

"Kindred Winterbourne Earls is a truly fantastic setting. My daughter absolutely loves coming here. The staff are so friendly and knowledgeable, and they've made a huge effort to make her feel welcome. Every time I collect her I always receive very thorough feedback about her day, from what she's eaten to which activities she's participated in. The office staff are also really efficient and are very quick to respond to emails, no matter how small the query. They have a huge variety of learning resources and the children spend a great deal of time outdoors. I genuinely believe my daughter couldn't be happier at any other setting, and I highly recommend Winterbourne Earls - it's brilliant!"

ANNA M, PARENT AT WINTERBOURNE EARLS (FEBRUARY 2020)