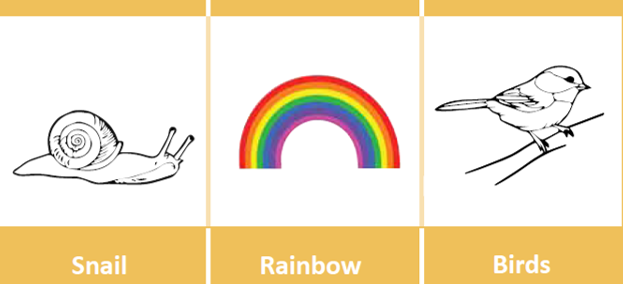 Blog
Spring is here, welcome to all new beginnings.
Spring has definitely sprung and it is my favourite time of year. It provides so many rich and varied learning opportunities for our children to explore new beginnings. Bulbs have grown into daffodils and tulips; buds that have turned to beautiful blossom on the trees; and crops and vegetables growing, bringing colour and beautiful fresh food to our tables. See how many of these new beginnings you can spot with this week's challenge: Spring Bingo. An opportunity to help your family explore the world around us. Maybe take it on a walk or in the garden. See how many things you can spot! By Annie Tierney, Head of Operations

New beginnings
We've all experienced new beginnings over the last month, whether it is new ways of working from home, home schooling, reviewing our priorities and what is important to us. I suspect we will all have a metamorphosis as we continue as a world, country, community, family, and individual to deal with the coronavirus pandemic and what new beginnings this will hold for us all over the coming months.
At Kindred, we have been working hard to hold on to that fact that new beginnings are good and change can be positive and although our plans have been put on hold and lots of exciting things we had to look forward to have been cancelled, not everything has been cancelled:
Sun is not cancelled
Spring is not cancelled
Relationships are not cancelled
Love is not cancelled
Reading is not cancelled
Hearing the birds sing is not cancelled
Music is not cancelled
Imagination is not cancelled
Kindness is not cancelled
Conversations are not cancelled
Hope is not cancelled
Spring Bingo
For the weekend we thought you could join us in celebrating Spring and New Beginnings and take part in our Spring bingo game. The idea is that with your little ones you use your garden, local area and daily exercise to search out all the items on the bingo board and cross them off as you go. Can you find them all?
Download the Spring BIngo board here>>
Use the images and words as a learning opportunity, you could:
link the word to the picture
sound out the words
talk about the picture
use the picture to recall events that have happened to you
find 'real' objects around the garden that represent that picture and collect them up
make a still drawing or painting using the items you have found
print off two versions, cut out the images and use as a memory game, for sequencing, matching, and ordering
play eye spy using the pictures
take inspiration from the pictures for example plant something in the garden
search for rainbows in puddles you find
discuss the lifecycle of a bird
talk about the different seasons
explore the objects.
Download the Spring BIngo board here>>
Have fun and please share any pictures of you finding the Spring items on our facebook page @inspiringkindrednurseries
---
Tagged in:
Blog Search
---
News Archive
---
Filter by Tag